Guest Post: MIX09 Day 2: "Return on Experience"
From now through the end of the MIX09 conference in Las Vegas, Rob Burke will be providing his insights from the conference on a daily basis.
| | |
| --- | --- |
| | Robert Burke is a Toronto-based IT Consultant who's attending his fourth MIX event this year. By day he's knee-deep in Microsoft User Experience technologies, including Silverlight and the Windows Presentation Foundation, but his background includes stuff like artificial intelligence, interactive installations, graphics and biometrics. He attended the first two MIXes as a member of Microsoft's Developer and Platform Group, and the second two as Principal Consultant of Carrington Technologies. His website is at http://robburke.net and his shiny new Twitter account is @rob_burke. |
The original post by Rob can be found here.

Deborah Alder at MIX09 Keynote
Bill Buxton, the Spirit of MIX09 (who, incidentally, now has a typeface named after him), was very welcome back for this morning's keynote to introduce Deborah Adler , whose work as principal designer for Target's ClearRx medicine bottles provided the focus for our discussion about design and its impact on user experience.
ClearRx Case Study
Deborah's research identified and addressed many serious problems with traditional medicine bottles. Her prototype was refined by Target into the ClearRx products, and the resulting "return on experience" includes brand awareness for Target — and, much more importantly, the potential to change behavior and save human lives.
Her advice to us was twofold - to have a love affair with our customers, and to bring our design skills to bear both humanly and humanely.
There is more information about Deborah's work at the Target:Health site.
[Update: I just saw Robby Ingebretsen's post and agree with him - these two keynotes together (and particularly, Deborah and Bill's contributions) made for the best and most inspiring MIX keynotes yet. ]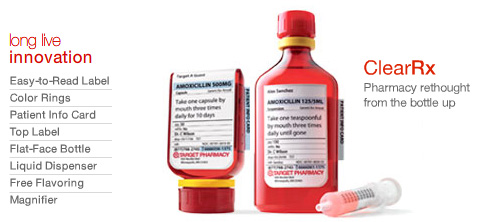 Clear Rx (link goes to Target ClearRx site)
IE8: In other keynote news, Dean Hachamovitch announced that Internet Explorer 8 was released today.
For more info: You can now watch streaming video of the keynotes (for both days) here, and Tim Sneath's thorough Play-by-Play is here and here.
The Cloud?
So I expected today's keynote was going to be about the Cloud. I was totally wrong.  But it's all good.
My Mind Map, with Day 2 on the bottom, now makes more sense: the "Return on Experience" discussion provides the roots for everything we've discussed at MIX09 this week.

MIX09 Keynote Mind Map - Days 1 and 2 - with Return on Experience at the root
p.s. More Misc MIX notes on the rest of Day 2 in a future post — I am shattered tonight. Johnny Lee's HCI talk was particularly memorable (link goes to his killer TED talk).