Windows 10 announcements on Jan 21, 2015
Wow.  Today Microsoft made some major announcements at http://news.microsoft.com/windows10story.  I'll cover them in order, but read to the end…you don't want to miss the excitement about Windows Holographic.  This blog post was created from my live tweets during the event, so apologies if there is some disjointedness. 
At the beginning, Terry Myerson announced that they would cover 3 things:
How Windows 10 feedback is shaping the product
Comprehensive view of Windows 10, including Cortana, productivity, new devices, etc.
Satya will discuss Windows and its importance to Microsoft
Then some stuff that had been discussed publically before was reiterated.  Windows 10 is familiar to 1.58 billion people, secure for the enterprise, has support for maker boards in the IOT space, and has one unified platform and store. 
Windows Insider Program
Feedback from the Windows Insider program is incredibly important to Microsoft and has shaped the product.  The engineers on the Windows team created a nice video thanking everyone for their feedback. 
1.7 million people in Windows Insider program
800K pieces of feedback
200K topics
To join, go to http://windows.com or https://insider.windows.com/ and sign up for free. 
Windows 10
The goal of Windows 10 was more personal computing.  Specifically, the vision included:
Mobility of experience
Trust
Natural interaction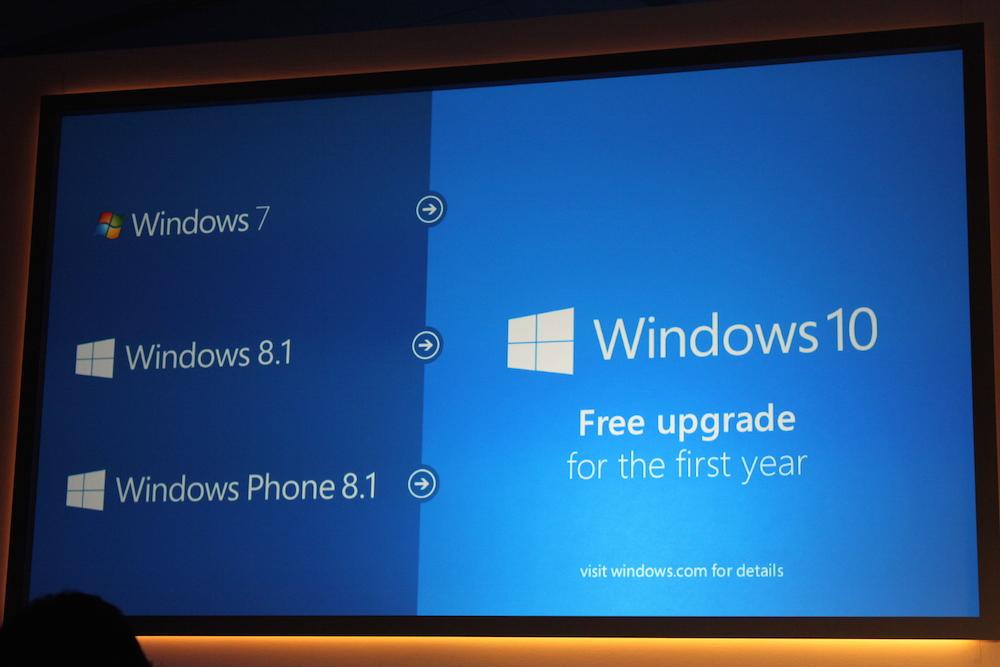 For the first year after Windows 10 is available, it will be free to upgrade from all devices running Windows 7, Windows 8.1, and Windows Phone 8.1. 
Joe Belfiore showed some demos (this is not inclusive): 
Panning in from right now shows action center (with settings, notifications from apps) rather than charms bar
Continuum feature: removing keyboard changes from desktop to tablet mode, with optimizations for touch (and the reverse works too when adding a keyboard)
Chatting with Cortana, the personal assistant, who is now available on Windows PCs in Windows 10 (and she speaks 7 languages now).  Joe asked very natural questions to Cortana on Windows 10: should he wear a jacket tomorrow, how much does tuition at the University of Washington cost, etc.  Like on Windows Phone, Cortana keeps a "notebook" about your interests so she knows what relevant content you would be interested in, which you can modify.  Cortana can be used to find files on your hard drive, OneDrive, or OneDrive for Business using voice.  She can help at home ("play my music") as well as at work.  In summary, Cortana has integrated search across your machine and web, natural interaction with PC, and is the world's most personal digital assistant. 
The Windows 10 new build will be available for PCs in the next week, and the first build for phones is coming in February, in 25 languages.   http://windows.com
Phones and devices
Some cool stuff here!  On a phone, the virtual keyboard can be dragged around (not just docked to the bottom), and you can adjust the size of your keyboard to make typing with one hand easier (useful on big phones like the Lumia 1520). 
Microsoft is committed to releasing a great hardware lineup for Windows 10 as well. 
Office
Office running on a Windows 10 phone was shown.  The Office ribbon is formatted nicely into the app bar.  Your "recent document" list will roam across Windows 10 devices.  There is hardware acceleration on slide transitions, wireless printing, and more on Office for the Windows 10 phone.  In the Outlook email inbox, left swipe will delete an email and right swipe will flag an item. 
Apps
Some of the big Windows modern apps got neat updates. 
The Photos universal app displays your pictures, caches from OneDrive, and formats nicely for phone or PC.  It also aggregates all of your photos from multiple devices and is smart enough to not show duplicates. 
The People app is also a universal app that aggregates your contacts from various social networks.  Users can now make Skype calls from within the app. 
The Music app can use the cloud (OneDrive) to add a song to a playlist and automatically sync it to all devices. 
The Maps app has support for Cortana to remember where you parked your car.  (Awesome!) 
Project Spartan
Project Spartan is our new browser for the modern web.  It has a new rendering engine, look and feel, and productivity features.  These 3 features were called out:
How you interact with web.  Imagine you and your friends talking about an article online.  Spartan allows you to annotate and share webpages with support for ink annotation and adding text comments.  You can save and share the webpages with your markup (save to OneNote, clipboard, share on Facebook/Twitter/etc.). 
Better reading experience.  Standardized reading mode (that can be personalized), reading list in core browser experience (saved offline), support for PDF files.  (The reading list sounds fabulous to me!  Imagine keeping a list of "articles I want to read later", and then they are saved offline, so when you are bored on an airplane, you have lots of interesting reading material queued up.)  
Personal assistant!  Spartan has Cortana support.  She can anticipate websites you want (like the Delta website, since she knows your wife is on a Delta flight that you want to track).  When you go to a restaurant's website, she can give you directions, book reservations, look up menus, see hours, etc.
XBOX Gaming and Entertainment
Phil Spencer (head of XBOX) then spoke about gaming on Windows 10.  This is another experience that Microsoft wants to make universal and mobile across all of your devices.  He demonstrated a new XBOX app for Windows 10, which supports voice and text chat with friends on XBOX Live.  With the Windows key + G, you can save the last 30 seconds of gameplay, because epic moments are unexpected.  You can then share that clip to XBOX Live or other social sites. 
They also discussed DirectX 12 in Windows 10.  On the same hardware, DirectX 12 will be up to 50% faster/half the power consumption as DirectX 11.  Unity has also adopted DirectX 12.  From an XBOX One and a Windows 10 PC, two people live-played the multiplayer game Fable Legends, which uses DirectX 12.  (There is a video showing more details of Fable Legends and how it can be played across XBOX One and Windows 10.)  
Finally, the library of XBOX One games that you already own can be streamed to any Windows 10 device in your home.  This will be out later this year. 
Surface Hub
The Microsoft Surface Hub is a 84-inch display with integrated cameras, speakers, Bluetooth, NFC, etc.  It is great for brainstorming and meetings.  A Siemens model shows the stunning 3D rendering on the Surface Hub.  They captured images, annotated them, and shared/saved.  The Surface Hub can project from Windows 10; remote participants can see content and annotations.  Meeting content is automatically shared with all participants after the meeting!  (Love this!!!)
Windows Holographic
Alex Kipman introduced the game-changing Windows Holographic.  The videos below show how holograms can augment the real world with virtual images in some cool scenarios like Minecraft blocks all over your living room, a father helping his daughter fix a sink, and other experiences.  The holographic APIs are enabled in every Windows 10 build.  (As a developer, I can't wait to play with this!)
The Microsoft HoloLens is the first holographic computer that will be available in the Windows 10 timeframe.  Microsoft HoloLens has see-through lenses, spatial sound, advanced sensors, and high-end CPU, GPU, and HPU (Holographic Processing Unit).  It has no wires, and there is no phone or PC connection required.  
HoloStudio allows you to create your own holograms.  You can 3D print them and share with the world.  A UFO flying device was designed live.  A woman built a hologram in 3D in HoloStudio wearing the headset, using voice commands (glue, rotate, copy) and gesturing. 
Closing Thoughts: The Importance of Windows
Satya Nadella delivered some closing thoughts to finish the event.  He spoke about having bigger aspirations for Windows: "We want to move users from needing Windows, to choosing Windows, to loving Windows."  He talked about the mobile-first, cloud-first world for which Windows 10 was designed.  He discussed a strategy which includes services, mobility, and cross-platform.  Satya shared some inspirational moments that drive Microsoft's passion, including a girl in India setting up her first computer and medics caring for his son using Windows PCs.
Resources
Watch this event on-demand: http://news.microsoft.com/windows10story/
The awesome short videos from this event are all available at https://www.youtube.com/playlist?list=PLFPUGjQjckXEkXOk-9yhoEsweYh64AjBI. 
There are some summaries in Terry Myerson's "Blogging Windows" and Jim Alkove's "Windows For Business" blog posts.
To learn more about Windows 10, new devices, more information on the free upgrade, or to join the Windows Insider Program, visit http://windows.microsoft.com/windows10/. 
The Verge's live blogging of the event: http://live.theverge.com/microsoft-windows-10-event-live-blog/