Case Study: Bargainland builds Bidtopia.Com
Last year, John and I ran across a new company that had moved to town (thanks Diana for the intro). Several things caught my attention about them. First, they were hard at work with .NET 3.5 and VS 2008 Beta, and second, their business model of "reverse logistics". This has turned out to be a really interesting story to watch unfold as this company explodes at the seams in growth, all the while with a minimal IT staff of five.  These guys went live with ASP.NET 3.5 before the VS launch in November, and then later went live with Windows Server 2008 before it launched. They are looking at SQL Server 2008 too.
If you get a chance, take a look at their auctions. They all start at $1. You read correctly, one dollar! And the variety of items is unfathomable - electronics, movies, motor parts, collectibles, jewelry, music, computers, networking equipment, PDA's, books, etc. It's crazy. (Really, you don't get the full reality until you get a tour of the warehouse.)
When I compare what a corporate IT shop gets done to what Bargainland gets done with only a few resources, I'm flabbergasted. Most IT corporate managers would be concerned if they saw the ground that Bargainland's IT staff can cover in a short amount of time. These Bargainland guys run circles around what a corporate shop does. If you thought that the meat of this story would be our technologies, in my opinion their business and the people are THE story - we've just provided a platform to support their business activities.
Paul St. James (CTO) and Joe King (IT Director) are the face of Bargainland. One minute, I'm listening to the craziest auction item ever sold or the wildest variety of items they receive - and then I'm listening to the speed they run at in the IT shop, or the load that their web servers handle. I can't do justice explaining their impressive story - so let me point to some other sources.
First, get our slant with the Bidtopia case study on Microsoft.Com. There are many interesting points in this writing:
Utilizing ASP.NET, LINQ-to-SQL, AJAX, Silverlight, IIS7, Windows Server 2008
"When we put our new ASP.NET 3.5 code into production, we saw an immediate 50 percent increase in site capacity—with no stability issues whatsoever."
"Our site uses lots of images, and the improved HTTP compression in IIS 7.0 appears to have reduced bandwidth usage by 10 to 15 percent," says Joe King...
"In the past, we've used Flash, but it was never quite where we wanted it to be," says St. James. "Silverlight will enable us to make the site more dynamic and interactive—for example, by displaying thumbnails when the user hovers the mouse over an item."
"Our biggest issues today are site capacity and the speed at which we can achieve it," says St. James. "In two months, when we're done rewriting the solution to run on the .NET Framework 3.5, our bottleneck will become the hardware, and we'll be able to scale out at will. Our goal is to increase site capacity a hundredfold, as needed to support both our own auctions and those of other large eBay sellers, and I'm confident that we'll hit that goal."
"We epitomize what a small IT shop can achieve with Microsoft software," says St. James. "We may not have a lot of developers, but we have a lot of talent—and Visual Studio 2008 lets us make the most of that asset."
Just to show a few quotes...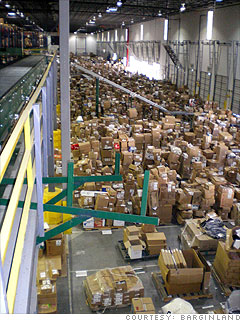 Another interesting piece on this story was done by Josh Holmes and John Mullinax. In this video interview (right after the Detroit launch event in March), Josh and John talk to Paul St. James and Joe King. You get to hear the latest in their saga of Internet e-commerce, plus a few stories about this business. You can't make this stuff up! Since the earlier mentioned case study, they lost a warehouse to a tornado and then a fire finished it off later that week (newspaper story). They also discuss the challenges and opportunities that they experienced through their phenomenal growth and the related challenges - like tornados. You also get to hear about some of crazy things that have been auctioned: a box of cash, invisible goldfish, and an origami boulder (which became a company created by the auction winner). So, make sure you watch Code To Live Bidtopia. (Thanks Josh and John for doing this.)
The Bidtopia story is far from over. They are on a role, and got a hot business. I am sure that we'll be hearing more from these guys and their continue success. So, stay tuned.
There are other articles about this company: