How OneNote 2007 helps 'Halo' game developer Bungie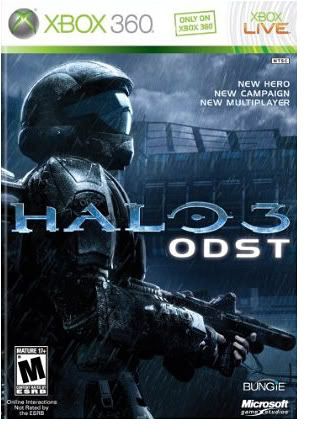 Game developer Bungie is one of the biggest names in the computer and console gaming market. The Kirkland, Washington company has 140 employees and is best known for its trilogy of Halo games, which are among the most successful video game titles ever released. The most recent installment — Halo 3: ODST — currently holds the #1 sales rank in Amazon.com's Video Games category.
The development cycle at Bungie is quite long, with a new game released once every three years on average. During development, Bungie developers and designers gather and generate large volumes of ancillary materials during the pre-production phase, including text-based materials such as brainstorming notes, static visual materials that include character and landscape sketches, and even audio and video clips to help guide creative development. They also find inspiration in many places, including interesting images, graphics, and other media on the Web.
Traditionally, designers and programmers stored these bits of inspiration in different formats and locations. Without a centralized repository, sharing this information with colleagues might involve exchanging multiple e-mails, walking to another office, or putting files onto a shared network drive. Some materials are captured on whiteboards or bulletin boards; in some cases, whiteboards have even been sprayed with fixative and set aside to preserve their contents.
At the end of the development cycle, the company has traditionally needed to hire a temporary worker for several weeks to gather the production materials, scan in the production imagery, and organize it all into physical binders for archival purposes.
Because collaboration is such an important part of the game development process, Bungie wanted to find a way to more efficiently store all of its production materials, while simultaneously improving communication among development team members. "We wanted a way to share assets and information electronically and easily," says Curtis Creamer, Senior Producer and Design Manager at Bungie. "We were working in an old paradigm, and we felt it was time to go digital."
Any solution had to accommodate the different types of workers that compose a development team, and this shaped the company's decision-making. "We have both artists and programmers on our team, and they tend to approach things in very different ways," says Creamer. "The first thing we looked at was a wiki-based solution, and after a lot of investigation, we decided it was too technically complicated for a non-programmer, like a designer or artist, to quickly and easily get something up and running."
As the difficulties with the wiki-based repository became apparent, Bungie began exploring other options for aggregating production materials and discovered that a promising solution was already installed on the company's computers. Bungie was using Microsoft Office Enterprise 2007, which includes the OneNote 2007 note-taking program. "I had used an earlier version of OneNote years before, but just as a place to jot down notes," explains Creamer. "But that experience gave me an introduction to some of the program's other cool capabilities, like being able to drop an audio file into a page of notes, so I started looking into it more."
Creamer experimented further with OneNote 2007, and he discovered that it had become a much more robust program since his first experience with the earlier version. "At first, I just shared a notebook out on a server and started playing with it," explains Creamer. "It ended up being a good solution and we stuck with it. We didn't have to do any customization, and since we already used the Microsoft Office suite, we could use OneNote 2007 at basically zero extra cost for us. It was like a free bonus with software we already had!"
Bungie found that its staff quickly became proficient with OneNote. No training was needed because everyone was able to get up and running by just using it. As more employees became familiar with OneNote 2007, its use increased to the point where it became the standard repository for all production materials. "Among other things, it's become the official place where we keep our design documents and concept imagery," says Creamer. "All of our lead designers are keeping iterations of their designs in the shared workbook."
Bungie users have taken advantage of the variety of options for accessing and working with a common repository that are available in OneNote 2007. "We generally use it as a shared workbook that lives on one of our internal servers," says Creamer. "Employees access it through their workstations at their desks, through Windows-based laptops, and even on Intel-based Macintosh laptops that have Windows installed. People can also access the workbook remotely from home, or they can take content offline with them and then sync up when they return to the office."
While most team members were quickly won over by the features of the OneNote 2007 solution, a few employees were reluctant to embrace it at first. "We definitely had some die-hard wiki fanatics who were skeptical," notes Creamer. "The thing that eventually won everyone over was the fact that it performed very well, that information was updated on the fly, and that it was super easy to get things in and out of the workbook."
The Bungie team also appreciated the fact that OneNote 2007 had features that appealed to both artistic and technical users. "OneNote 2007 has a number of features that separate it from a word-processing document or a wiki," says Christopher Barrett, Art Director at Bungie. "As an artist, I love the fact that you can drop in an image, drag it around, and put it where you want to without fighting formatting imposed by the program. That makes sense to an artist's brain. I also love the screen clipping feature that makes it quick and easy to grab an image off of a Web site. That's really helpful."
Use of OneNote 2007 continues to evolve and grow over time at Bungie, as staff members become more familiar with the product and aware of its full capabilities. "Now that we understand what we use it for and how we want to use it, we're being more directed in what we're doing with it," says Barrett.
To learn more about the benefits that OneNote 2007 brings to Bungie, check out the rest of this case study.
To learn more about what OneNote 2007 can do for you, start with our What is OneNote? video demo, or view any of our other demos that are available for free on Office Online.