Learning OneNote 2007 right out of the box
In recent weeks, page hit counts for our introductory content about OneNote on Microsoft's Office Online site have been steadily rising. As the worldwide adoption of Microsoft Office 2007 keeps increasing, so does awareness about OneNote 2007.
As much as we in the OneNote user community have already come to rely on this great program — the veritable Swiss Army knife of the Office family — we know all too well that OneNote's simplicity can often hide its true power from new users who are taking their first test drive.
Some users have told us that they're having trouble getting started, or that they assume that there's a specific note-taking system to learn before they can reap the benefits of keeping all of their stuff in OneNote (see my previous post, "Taking notes the 'right' way," about this common misconception).
Others expect OneNote to be some sort of new-age word processor in which they're still confined to the same invisible boundaries of traditional documents. Even those who have already come to appreciate the flexibility of the OneNote canvas are sometimes still unsure about how best to manage electronic notebooks in efficient ways.
All of these things considered, I wanted to dedicate this entry to something that some of you may have overlooked when first booting up the program: the OneNote 2007 Guide.
 
What's the OneNote Guide?
When OneNote 2003 first debuted in the marketplace a few years ago, it included a Flash-based tour to give users an overview of the program. While such self-running tours can serve as an effective introduction, they usually offer little or no interactivity. Worse, you can't try things out for yourself if all you have is a blank screen and no content with which to experiment.
For OneNote 2007, we decided to do something different by including an actual OneNote notebook — called the "OneNote 2007 Guide" — with the product. OneNote users can read its pages to learn about OneNote's capabilities and features, and then experiment with the pages and sections first-hand by trying out the various techniques right there on the program's canvas.
Sounds cool, but where is it?
To view the OneNote 2007 Guide, click the "OneNote 2007 Guide" notebook icon on the Navigation Bar (on the far left of your screen).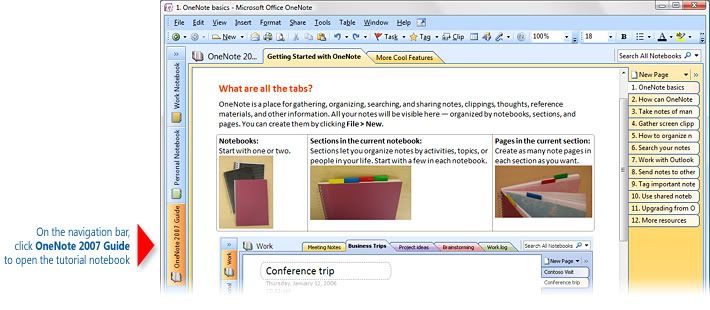 When the Guide notebook opens, click either of its two section tabs (near the top of your screen) and then browse through the pages in any order you want by clicking the page tabs in the page list (near the right side of your screen).
If the OneNote 2007 Guide isn't shown on your Navigation Bar, you can easily reopen it by doing the following:
On the File menu, point to Open, and then click Notebook.
In your Documents folder (on Windows Vista) or your My Documents folder (on Windows XP), double-click the OneNote Notebooks folder.
In the OneNote Notebooks folder, click to select the OneNote 2007 Guide folder, and then click Open.
If you're sharing your computer with co-workers or family members and you still don't see the Guide notebook in your notebooks folder, it's possible that someone else might have deleted it. In that case, keep reading — I'm sharing the necessary steps for restoring the Guide from its original file later in this post.
 
Annotate it, play with it, mess it up!
Aside from teaching you the basics about OneNote, the OneNote 2007 Guide also serves as a hands-on training ground, so don't be afraid of "messing it up" — that's what it's there for. It's not like you're wasting any paper!
You can try out all of the things that the Guide pages mention. Experiment by moving stuff around on the page, change the font, size, and color of text. Add some new pages to an existing section and then create a couple of new sections. Rearrange section and page tabs by dragging them. Draw some shapes with the drawing tools. Insert some pictures or Web clippings and import some of your Office documents and files to see how they show up in OneNote. Send yourself a notes page in e-mail to see how it appears in your Inbox. Experiment with tables, note tags, and hyperlinks, and then try out the cool search features.
No need to get overwhelmed — just go at your own pace and search the OneNote 2007 Web site for Help whenever you want to learn more about a particular feature before moving on to the next.
 
Remove or reset the OneNote Guide
When you're done messing around and trying stuff out, you can either delete the OneNote 2007 Guide from your hard drive for good, or you can restore it to its original glory and keep it as a handy reference manual.
In either case, do the following:
On the Navigation Bar, right-click the OneNote 2007 Guide notebook tile, and then click Close this Notebook.
 
In Windows Explorer, navigate to your Documents folder (on Windows Vista) or your My Documents folder (on Windows XP), and then double-click the OneNote Notebooks folder.
 
In the OneNote Notebooks folder, right-click the OneNote 2007 Guide folder and then click Delete on the shortcut menu.
 
If you now want to restore the OneNote 2007 Guide to the way it was when you first installed OneNote 2007, follow these additional steps:
Close OneNote 2007 if it is running.
In Windows Explorer, navigate to the C:\Program Files\Microsoft Office\Office12\1033 folder on your computer's hard drive. If you installed OneNote in a different location, navigate to it instead.
Locate and then double-click the file ONGuide.onepkg.
In the Unpack Notebook dialog box, change the Name to "OneNote 2007 Guide" and then click Next.
Under Who will use this notebook? , leave the default settings, and then click Next.
Under Confirm notebook location, leave the default path, and then click the Create button.
If you're using a version of OneNote 2007 other than U.S. English, substitute the "1033" code in the file path mentioned in Step 2 above with the correct locale identifier (LCID) code for your edition of OneNote or Office 2007. To learn more about LCID codes and software localization considerations, you may find the information in this Wikipedia article useful.