Office Labs community site makes its debut today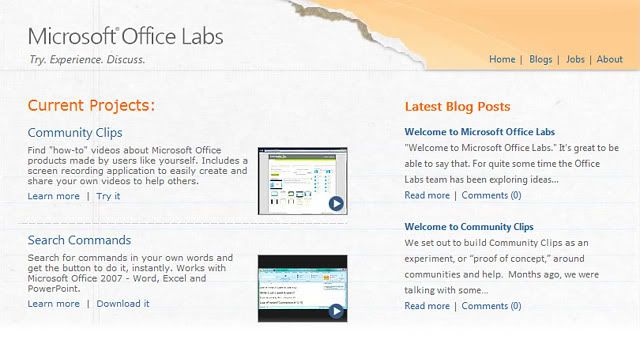 For the past few months, the Office Labs group at Microsoft has been hard at work, prototyping a number of community-oriented projects. As of today, these projects are no longer shrouded in mystery. Head on over to the Office Labs site to check out what's available!
Office Labs is headed by Chris Pratley, who is widely known as the father of OneNote. Chris describes his new assignment as "a group of designers and developers that collect ideas from all over Microsoft and build working prototypes of the most promising of these ideas to see if they work as well as we hope they might."
To be clear, Office Labs isn't a showcase of alpha or beta products or services. Instead, it's a collection of current and ongoing experiments. "Concept testing is what this site is all about," says Chris in his welcome post, which you can read here.
At the heart of these tests and experiments is the community of Microsoft Office customers, who are encouraged to participate and share ongoing insight and feedback with each other. There's much to check out, but OneNote users may find the following two Office Labs projects of particular interest:
 
Community Clips

 

Find "how-to" videos about Microsoft Office products, made by people like you. You can download a free screen recording program to create and share your own demos and tutorials with other people in the community. The videos you share on the Community Clips site can help others learn and master their favorite Office programs and features (think YouTube for Office Help). To view the current catalog of clips and to download the free desktop recorder, visit the Office Labs home page and then follow the links.
 

InkSeine

If you happen to be using OneNote 2007 on a Tablet PC, check out how InkSeine tailors the Tablet PC interface to pen input and uniquely combines inking with searching. The tool fades into the background so that you can focus on capturing your ideas, sketches, and creative thoughts. To see how InkSeine complements OneNote on Tablet PCs, visit the Office Labs home page and then follow the links to the free download.
Projects on Office Labs will be updated and supplemented over time, as additional Microsoft team projects and experiments are deemed ready for their close-ups. Be sure to bookmark the Office Labs site, create an account, subscribe to the blog, and share your honest opinions and ideas with the creators and with the other participants of the Office Labs community.
For a bit of OneNote nostalgia, head on over to Chris Pratley's OneNote blog, which debuted back in January of 2004 and still draws a large following despite Chris' new focus. Chris (and OneNote) are also prominently featured in this news story on c|net today.