Silverlight: FaconBacon 3D
David L. Campbell via OzSilverlight mailing list (all the kids hang out here) have put forward a concept around taking a facon bacon 3D animation and putting into Silverlight via a workflow I hadn't even began to think of.
Their approach is quite simple really, and I've meet with a lot of customers doing some interesting things with WPF + 3D. I know true 3D applications make use of complex node structures, but if you're going to produce a basic 2D emulated flat world (that smells like 3D) this could also be a nice approach.
"..This tutorial will guide you through the creation of a Silverlight application that will allow a user to rotate an object that you create, a full 360 degrees along both axis. This application is based on the original SilverlightVR animation engine that was created by Jeff Paries ( DesignWithSilverlight.com ). Jeff assisted with the creation of this application...
http://www.adefwebserver.com/DotNetNukeHELP/Misc/Silverlight/
 One of my favourite Silverlight developers (Neville Richards) has also done some interesting things in terms of emulating 3D inside Silverlight.
"...Breeze Designer, which is a a 3D modeler I wote as a graphical modeler and front end to the popular POV-Ray ray tracer and also a long term hobby project of mine, is being extended to be able to handle a number of new technologies including Microsoft's Silverlight. As part of this I have created a simple 3D spinning logo of the CGI Australia company. I have posted a sample animation at http://www.imagos.fl.net.au/silverlight/cgi/ The logo was originally created in Adobe Illustrator then imported into Breeze Designer where it was animated into a 3D the spinning version..."
http://imagos.wordpress.com/2007/08/27/technorati-listing/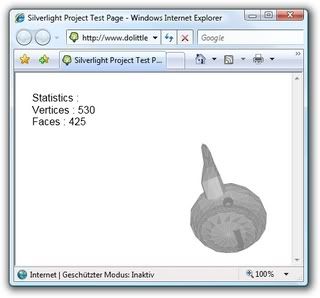 You can also see some other interesting approaches to Silverlight + 3D via [design logic] blog.
I would love for some kits like papervision3d, Sandy etc to be ported to Silverlight. There are some other early 3d works from bubblemark , a 3D engine recently released in early stages called Balder ( source at codeplex ), pageturns , and more but it is still pretty young.
http://drawk.wordpress.com/2007/07/15/3d-textured-silverlight/
I think what we are seeing even in the early days of Silverlight is some interesting uses of the product even at this early stage of release. It reassures me that as more and more iterations come of the assembly line, that folks of this caliber are behind pushing it further.