Imagine Cup Australia Update - register now for IC08
I run Imagine Cup each year in Australia. It's (primarily) a software design competition, and is open to university students worldwide. The prizes are great, students get treated like rockstars and it's all a cracking good time. The following is from my Imagine Cup blog (all Imagine Cup news will be cross-posted to this blog)
" First up, the biggest news is that anyone who wants to enter Imagine Cup 2008 are able to register now. Head to http://imaginecup.com/Registration/Default.aspx to sign up.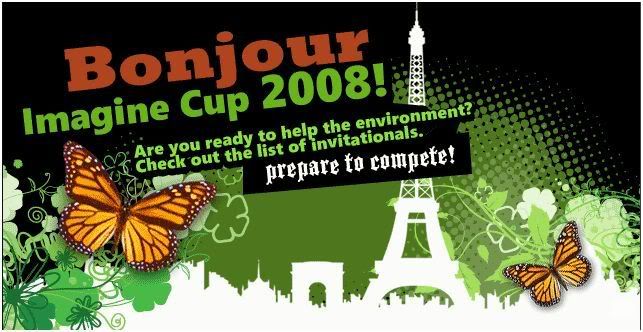 Second, 2008's software design category is going to be a very different competition to last year in Australia. Microsoft Australia will be having alot more to do with teams as they move through the software development cycle, and will be holding a number of events throughout this year and in the lead up to the finals next year where you can learn new stuff, meet other students, meet professional developers and generally have a whole bunch of fun and bounce some ideas of each other. Also, finding good ideas is probably the most part of the battle here, so watch this space for interviews with environmental sustainability experts to give you ideas for your 2008 Imagine Cup entry.
Also, for the first time this year, we've got industry involvement. Readify Consulting have come on board this year as a co-sponsor, and will be working with us throughout the year to deliver a number of events and prizes to those entering Imagine Cup. Readify are one of the top .NET consulting and training firms in Oz (if not the best), so it's great to have them on board.
Also (and probably most excitingly), entries can be delivered in 3 separate, 'optional' phases, and with each submission, you get a rad Microsoft prize! So what do I mean by 'optional' submissions??? Well, each team needs to submit a list of deliverables, which are outlined here, in order to enter. 'Optional submission' means you can still submit all deliverables in one fowl swoop at the end of the competition like last year, but in an effort to help you balance your workload out properly, we're rewarding those entrants who take a well planned approach, who start early and who break the project down into phases. If your team submits your project proposal in late December, you get a sweet Imagine Cup t-shirt. If you submit you proposed systems architecture and screenshots of your progress in late January, you get a free Microsoft Wireless Mouse!
Finally, this year, EVERY student from every team that submits a final entry will win a copy of Office Ultimate, worth ~AU$1200 rrp! So that means that no-one will walk away empty handed from this year's software design category of Imagine Cup in Australia. Plus, the regular prizes such as cash, Xbox 360's, trips to Paris to compete in the world finals etc still stand. So get cracking, sign up today, and let's "Imagine a world where technology enables a sustainable environment"!