All 52 MIX06 Sessions Online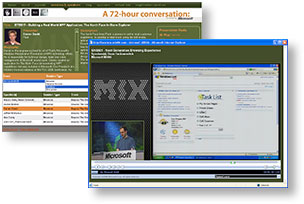 As promised, we've published all 52 MIX06 sessions online for your education and enjoyment. We'll be hosting them for free, for anyone (not just conference attendees). Here are some of the features:
All 52 sessions, including Bill's keynote, 2 general sessions, 43 breakouts, and 6 discussions (whew!)
Video of the presenters along with full-fidelity demos and PowerPoint slides
A drop-down index to jump to key locations within each presentation (look for it in the lower-right corner of the Media Player window)
Global search across all sessions
Ability to launch the actual PowerPoint deck
Ability to download the presentation and PowerPoint deck for offline viewing
Compatibility with Internet Explorer and Firefox
Tip: to save yourself time and play back the presentations at a faster speed, right-click on the video, select Play Speed, then Fast. If you'd rather use the keyboard shortcut, make sure you click somewhere on the video frame first so that it's selected, then press Ctrl+Shift+G.
By the way, all 209 PDC05 sessions are still available online. We've extended the hosting for a little while, but we're not sure how much longer they'll be available, so check them out (or download them) while you can.
As always, we really appreciate your feedback. Bon appétit!