Dinner with Steve Wiebe (of The King of Kong fame)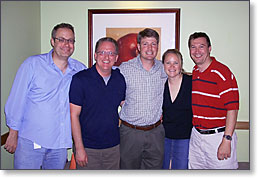 This past Thursday evening, Ray Winninger, Jennifer Ritzinger, Arthur Yasinski, and I met Steve Wiebe for dinner at Pomegranate in Redmond, Washington. If you're not familiar with Steve, he's featured in the recent documentary, The King of Kong: A Fistful of Quarters. My wife and I saw the movie a few weeks back at Big Picture in Redmond and loved it. Even if you're not a fan of classic video games, this is a great movie (don't take my word for it).
Immediately after the movie, I told my wife that I'd love to find Steve and take him to dinner (he lives in the area). He seemed like a great guy in The King of Kong, and although I don't hold any current records, I have held a few in the distant past, and I figured he'd be fun to spend some time with.
I happened to mention the movie to Arthur at lunch one day, and it turns out that he lives just down the street from Steve...and has seen him playing Donkey Kong in his garage many times! :-) With Arthur's help, I was in touch with Steve's wife, Nicole, a few e-mails later, and it wasn't long after that that we had set a dinner date.
Fast forward to dinner. Let me start by saying that Steve Wiebe is exactly as he is portrayed in the movie. He's polite, considerate, very likable, smart, and respectful of everyone he talks about. Steve was a mechanical engineer at Boeing where he worked on landing gear, and he's currently teaching seventh grade math in the area. We spent almost three hours talking and enjoying a great dinner. Among many "behind the scenes" stories, here are a few other tidbits from the evening:
Steve has liked Donkey Kong since his younger years, and they had a machine at his fraternity in college. The first time he reached the kill screen, he thought the machine was defective. Only later did he learn that this is the last screen in the game.
Steve doesn't play Donkey Kong while school is in session. I'm very impressed at his self-control!
Steve was aware of the Galaga bug that causes the enemies to stop firing for the rest of the game, but he didn't know the details. As a huge Galaga fan myself (remember my post, Make Your Own Mini-Galaga?), I was thrilled to add a little video game knowledge to the conversation.
As a side note, before dinner, Ray, Jennifer, Arthur, and I decided to try our hands at Donkey Kong to see who could get the highest score (we have a machine in the office). If anything, it would give us an appreciation of Steve's amazing achievement of 1,049,100. After a couple of rounds, I happened to get the high score of 26,600...and that was on a machine that gives you six lives! Pretty sad.
Thank you to Steve for saying "yes" to dinner. It was a fun evening!