Microsoft Fingerprint Reader
Update on 3/26/3009: I recently received an official communication from our hardware group that is germane to this old blog post:
Thanks for your interest in Microsoft Hardware products. The Fingerprint Reader is no longer being manufactured by Microsoft but we recognize it may still be available from retailers and resellers. The product runs on 32-bit versions of Windows XP and Windows Vista. Microsoft will not be releasing any updates for the product to run on 64-bit versions of Windows XP or Windows Vista. The product is not supported on Windows 7 (32-bit or 64-bit). To ensure this is clear to our customers, the product will not install on Windows 7 (the user is warned that the application will not run).  

If you currently use the Fingerprint Reader and are unable to use your product with 64-bit versions of Windows XP or Windows Vista or the Windows 7 beta release, please visit the following Web site for assistance: http://www.microsoft.com/hardware/support/fingerprintreader.mspx.
For a couple years now, I've been happily using a DigitalPersona fingerprint reader. It was given to me at one of our internal events, and I had let it sit on my shelf collecting dust wondering why I'd ever need a biometric security device to logon to my machine. Then, one day, I ran across it while looking for something else, and I decided to plug it in and give it a try. Unfortunately, the personal edition of the DigitalPersona device wouldn't allow me to logon with my fingerprint unless I was using the Windows XP Welcome Screen option (and I prefer the Windows Classic Logon). So I was just about ready to disconnect it and put it back on the shelf to collect more dust when I read that I could use it to provide usernames and passwords for web sites I frequently visit. Interesting.
Basically, you visit a site that requires authentication, touch the reader with one of your registered fingers, then tell the fingerprint software what it should enter into selected fields on the web page. You can also indicate whether or not you'd like the "submit" button on the page to be pressed. That's it! Now, the next time you visit that web page, you just touch the fingerprint reader, and everything is done for you. It's really that simple, and it makes logging into secure sites a breeze. I suppose it could be used for any site that has fields you'd like to fill in, but I've used it exclusively for authentication.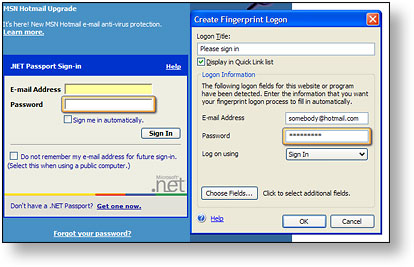 I knew that we had recently come out with our own Fingerprint Reader, and I figured that I could use my new computer purchase as an excuse to try it out. So, even though the DigitalPersona reader had never given me a single problem (other than the Windows XP logon restriction), I purchased the newer, slimmer, and sleeker-looking Microsoft version. And guess what I quickly discovered? It's also made by DigitalPersona! I was very happy to learn this, although I wondered if our version would provide any benefits over the older reader.
The Microsoft Fingerprint Reader does allow you to logon to your machine, even if you're using the Windows Classic Logon screen like me. Plus, the interface that allows you to configure fields and buttons on a web page is improved and very straightforward. As you can see in the screenshot, the software highlights the field on the web page (in this case, a Hotmail password field) that corresponds to the field that you are registering. Then, you can tell it which button to use to submit your information. In my case, it automatically selected the "Sign In" button for me. After I press OK, I'll never have to type these credentials again...I can just use one of my registered fingers.
One word of caution. I've discovered that the reader will not work more than a couple times when plugged into a Belkin F5U237 Hi-Speed USB 2.0 7-Port Hub. If I plug it directly into my computer, everything works as advertised. The fingerprint reader appears to require 260mA of power from the USB port, and from what I've read, the USB specification states that devices may use up to 500mA before they need to provide their own external power source.
I'm not sure why it doesn't work reliably when connected to the Belkin hub, but I've tried a number of things to diagnose the problem: I've plugged the hub directly into the wall (instead of through a surge protector), I've tried all of the ports on the hub, I've tried another hub of the same make and model, I've upgraded all of my USB drivers, and I've spent about 30 minutes on the phone with Belkin technical support. Although the support person I spoke with was very helpful, we were unable to successfully resolve my problem. I'll probably try a different USB hub to see if the issue I'm having is limited to this specific make and model. Update: I installed an Adaptec USB card, and everything now works fine. It appears that the problem is with the USB chipset on my motherboard (VIA).
Regardless of this slight hiccup, I am very happy with the new reader. For around $41 (or $39.88 if you live near a Sam's Club), this is a nice piece of hardware that offers a lot of convenience. If you're looking for unique and useful gift ideas for the upcoming holidays, this is one I'd highly recommend.