PDC2008: A Day in the Life #5
I have an internal PDC2008 gadget running in my Windows Sidebar, and it reports that there are only 25 days remaining before the big event. In "event time," that seems like tomorrow! I'll probably go to sleep tonight and wake up in the Los Angeles Convention Center. I'm not sure if I'd consider that a dream or a nightmare at this point. :-) There's still a lot to do!
My days are packed with PDC2008-related meetings (and some MIX09 meetings, if you can believe it). Last night, we published 25 brand new sessions, and here are a few of the highlights:
Miguel de Icaza is presenting a session titled Mono and .NET. It's great to have Miguel present at PDC!
We announced a handful of sessions from Microsoft Research, including Designing the World Wide Telescope by Jonathan Fay and another called Contract Checking and Automated Test Generation with Pex . Parallelism and concurrency are hot topics this year, and Concurrency Analysis Platform and Tools for Finding Concurrency Bugs should be extremely useful.
A languages panel is starting to become PDC tradition, and this year, we've assembled a panel of experts for the ambitiously titled The Future of Programming Languages. Not only will you hear from the top language designers at Microsoft, but we'll have a number of industry luminaries too. This is always a very popular session.
Microsoft .NET Framework: CLR Futures with Ian Carmichael and Joshua Goodman should appeal to anyone interested in the future of managed code development.
Learn about where the Windows Presentation Foundation is headed with Kevin Gjerstad in WPF: Futures.
To see how our MIX Online Team has made it easy to work with Microformats, be sure to attend Oomph: A Microformat Toolkit by Karsten Januszewski.
On a related topic, you may remember the post I did awhile back called PDC 2008 Conference Scheduling Using a Genetic Algorithm. Well, the time has finally come to feed the algorithm some real data and generate a master agenda that enables you to attend your favorite sessions in-person. This is a bit of an experiment for us this year, and I need your help to make it work.
Please take a few minutes to sign in to the PDC2008 sessions page (the Sign In button is in the upper right corner), and add sessions that you plan to attend to your My Sessions list. You can either check the box next to each session or click the Add to My Sessions button. If you've already done this, I'd ask you to review your list, since we've added a lot of new content over the past month. Note that by adding sessions to your list, you are not committing to anything; you're always free to attend any session you'd like. The more data you provide, the better we can generate a master agenda that helps you get the most out of your PDC experience.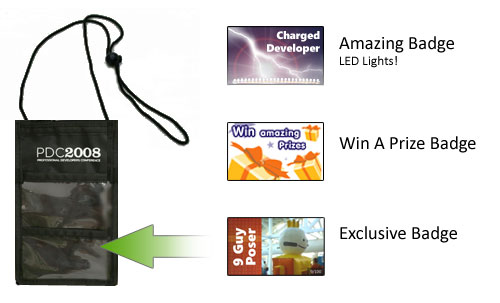 Last, I want to point out something that Adam Kinney is coordinating this year called PDC Badges. The PDC2008 badge holders have two slide-in pockets on the front. The top pocket is where your name shows up, but the bottom will accept a standard business card...or anything business-card-sized (the imagination wanders). By the way, why do I always think of badgers when I talk about badges?
We'll provide a "default" card and coordinate some special achievement cards that you can collect throughout the event. An example might be, "I met Mike Swanson," though I'm not sure that'd be much of an achievement. :-) The idea is that they're unique, cool, limited, and fun to collect. You can keep your current-favorite card in the front—prominently displayed—while the lame and embarrassing cards are hidden from view.
The cool part is that you can print your own badges and bring them to the event. Think of it as a way to tag yourself. While you can certainly use any vendor you choose to print the business cards, I've had great luck with MOO (I've posted about their MOO MiniCards before). You can upload as many as 50 different designs for orders of 50 or 200 business cards. Their prices are good, and the quality is high.
Well, that's about it for this post. I'm not sure how many more posts (if any) I'll sneak in before PDC2008, but if you're planning to attend the event, stop me and say "hello" as I run down the hallways. I love meeting my readers face-to-face!