PDC2008 Downloadable Master Session List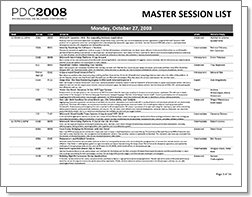 Only three more days before PDC2008 kicks off in Los Angeles. It's hard to believe that the big event is almost here! If you won't be able to join us at the conference, be sure to bookmark www.microsoftpdc.com and watch the first two keynotes streamed live. Keep checking back for news, announcements, and video recordings of each session.
Many of you have already used the new timeline view to add sessions to your own personal agenda. As an aside, did you notice that you can click on a time to "zoom in" to the content? It definitely makes the longer session names easier to read. For those who prefer to download an electronic version for offline viewing, I put together a 14-page PDC2008 Master Session List (link removed, see update below). Apologies in advance for the font size I had to use for the abstracts, but without the smaller font, the document was already over 23 pages long.
While I have your attention, also be sure to pick up printed session change lists that we'll make available at registration starting on Monday. We try to minimize changes to the schedule, but they inevitably happen (new sessions are revealed, repeats get scheduled, speakers get sick, etc.). The online version will always be up-to-date, so if you're ever unsure, browse to the timeline view from your laptop or one of the many machines we'll have scattered around the convention center.
Last, if you're mobile, you might prefer to use the mobile version of the site. See you soon!
Update: Because the downloadable session list was becoming more and more incorrect as the days went on (due to cancellations, reschedules, new sessions, etc.), we've removed it to reduce confusion.