Three Hot Dell XPS M1710 Laptops to Give Away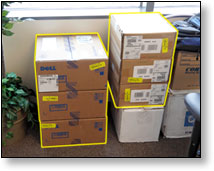 Knew I'd get your attention with that title.
This post is an exercise in personal transparency...transparency in the hopes that if you know I have three of these Dell XPS M1710 powerhouses to award as prizes, you'll bombard me with e-mail until I get off my butt and launch the contest they relate to! A contest, you say!? Yep...you heard me right. Only the hax0r with l337 skillz need apply. I'll share more details when I launch the thing, but in the meantime, it's worth spending some time learning XAML. I've probably said too much already. :-)
To whet your insatiable geek appetite, here are some of the machine specs:
Dell XPS M1710 with Intel 2GHz Dual Core processor
17-inch UltraSharp widescreen WUXGA display (that's 1920 x 1200, if you're counting...perfect for some cool wallpaper)
512MB...wow, I need to say that again...512MB NVIDIA GeForce Go 7900 GTX! Ouch!
80GB 7200RPM SATA hard drive (had to watch the budget somewhere)
Microsoft Windows XP Media Center Edition 2005
Built-in 10/100/1000 network card and 802.11a/g wireless
8X DVD+/-RW drive
Ready, willing, and oh-so able for Windows Vista
Anyway, keep me honest. Send me e-mail. Subscribe to my RSS feed so you'll hear the contest announcement when it happens. Expect something in the next couple of weeks. There...I've committed. There's no turning back now. :-)
Oh...and who wouldn't want to do this with their brand spanking new XPS machine!?