WPF Ribbon, 3D Conversion, and Courses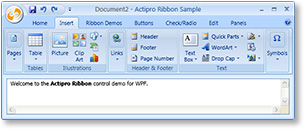 To kick things off, Actipro recently released their WPF Actipro Ribbon control which is based on the new Office 2007 UI. According to the site, their control "implements all of the core required parts of the Microsoft Ribbon UI Guidelines along with many optional parts as well." If you'd like to take it for a spin, fire-up their Live XBAP Demo and try it right inside your browser (funny...I happened to have Word 2007 running in the background, and for just a moment, I was confused). Have I mentioned how much I love XBAPs!? And if you hadn't noticed, they also make a WPF Actipro Wizard control.
Have some 3D models that you'd like to convert to XAML? Right Hemisphere released version 5 of their Deep Exploration product. Most notably (at least to me) is the addition of XAML export support. This means that you can open a file from over 40 supported 3D formats and export out to XAML for use in your WPF application. Download a 30-day trial and see what I mean. For other conversion formats, check out my WPF Tools and Controls page.
Last, Cal Schrotenboer wrote to tell me that he's teaching a class at Foothill College in Los Altos Hills, CA called Windows Presentation Foundation in C#. And starting in the summer term, they'll be offering a class in Expression Blend as well. Too cool!