Forms not working after applying B2 Technical Refresh update
You have just applied the Beta 2 Technical Refresh to your SharePoint farms, and everything look to be in working order. And then, when you try to open a form to submit for your workflow, Forms Server just wouldn't let it be. But, it works before the TR, and you swore you have not done anything to it after the TR patch.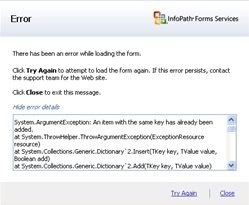 What happened here?
It's pretty straight-forward. You will need to run stsadm -o reconvertallformtemplates after applying TR, because it says so in the installation guide, step #10 in the "How to upgrade an existing Beta 2 installation to Beta 2 Technical Refresh" section.
For those who jumps straight into installation without much of a glance at the readmes and guides and important!readme!first!'s, here's two very important links:
1. The official guide on Installing Microsoft Office SharePoint Server 2007 for Beta 2 Technical Refresh: http://technet2.microsoft.com/Office/en-us/library/f49862ab-e067-4723-bb90-7eb1182c65ce1033.mspx?mfr=true
2. List of known issues, AND the available workarounds: http://officebeta.iponet.net/en-us/products/FX101517541033.aspx?ofcresset=1