PhotoStamps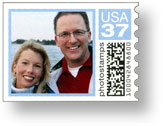 For seven weeks during August and September, the US Postal Service authorized a public market test for PhotoStamps. They cost about twice as much as normal postage, but in my opinion, the novelty is worth the price. So, I ordered a few sheets printed with a photo of Elizabeth and me, and we planned to use them for personal correspondence and possibly our greeting cards for the upcoming holidays. Right after I ordered them, I read a news story stating that stamps.com had revised the program to prohibit photos of adults and teenagers. Apparently, The Smoking Gun had successfully snuck photos of some notorious adults past the censors. Needless to say, I was worried that we would never receive our PhotoStamps.
Much to my surprise, the stamps showed up—as ordered—a few days later. However, because of the controversy and the fact that the program has ended pending 90-day review by the US Postal Service, I wonder if we should actually use them or keep them around as a historical artifact. Canada has been offering custom stamps since 2000, and England offers it through their Royal Mail.
If this is something you'd like to see more of in the future, stamps.com has a contact address for someone at the US Postal Service. Personally, I think they're pretty cool. Did anyone else have a chance to snag some of these?