Working on the PDC05 Post-Show DVD Set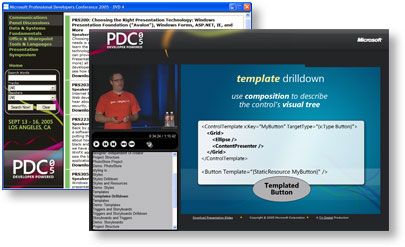 I've spent the past few days reviewing the first-cut of the PDC05 post-show DVD set, and I have to say that I'm very excited about what we're going to deliver! Because I was part of the team that organized and ran this event, I only had time to attend a single session in Los Angeles. No worries, though, because we recorded all of the breakout sessions (including those during lunch), and all of the symposia. We captured four unique data streams in each room: the audio, the PowerPoint presentation, any demos, and video of the speaker(s). After collecting a half terabyte of raw data (!), we've worked very closely with a vendor to assemble all of the content into a seamless, synchronized Microsoft Producer format.
We had originally planned to expand the "normal" 2 DVD set to 3 DVDs this time around. But, because of all the content, we've had to increase it to 4 dual-layer 8.5GB DVDs. Each DVD contains a full index, and DVDs are organized by presentation track. You can either drill down by session or perform a keyword search to find exactly what you're after. Or, if you're an uber geek, you can just sit back and watch over 200 sessions back-to-back. That's over 250 hours of content! Wow!
The background screenshot shows the start-up interface for navigating the sessions along with their descriptions. The screenshot in the foreground shows the actual presentation. You get video of the speaker, an index of the presentation just below, and the PowerPoint slides and demo video to the right. This is the first time we've included video of the speaker for all sessions, and it really makes for a very engaging experience. Best of all, you can use standard Media Player controls to increase the playback speed to 1.6x (Ctrl+Shift+G) and completely throttle your brain with the technical torrent...don't try this with 400-level content. :-) Oh...we've also thrown in all of the PowerPoint presentations and sample code for many of the sessions.
So, how do you get all this goodness? That's the best answer of all. If you attended PDC05, it'll be automatically shipped to you when it becomes available (targeting early November). If you'd like to order your own full DVD set to keep handy, visit the order page. Or...drum roll please...we'll be hosting all of this, for free, for anyone, for six full months! Now that's awesome.
By the way, did you know that you can download the PDC05 PowerPoints and some sample code already? And here's a session list.
Last, I have to shout out to Robert Ingebretsen (the guy wearing the orange shirt in the screenshot). I keep forgetting to link to his new blog site. Robby has an awesome design sense, and if you're interested in Windows Presentation Foundation, you should check out his stuff.